Certified by Barreworks
The Industry's Leading Barre Certification
Become Barre Certified with the best in the biz!
Learn the Method
---
Empower yourself with the knowledge to create and teach your own dynamic barre class based on the principles of Barreworks signature methodology.
Deepen Your Practice
---
Immerse yourself in our functional movement exercise system, designed to strengthen and balance the body while developing strong posture & alignment.
Expand Your Skill Set
---
Develop skills for effective demonstration, cueing, sequencing and modifications. Refine your classes with musicality, flow and transitions.
Barre Certified by Barreworks

Join us in-studio or via Zoom
---
A pioneer in barre fitness methodology, Barreworks offers the most comprehensive training in the industry. With 75 hours of immersive and effective training, our certification gives you everything you need to become an exceptional teacher. We begin with a weekend intensive of fundamentals and opportunities to implement these into practice. You then have 6 months to complete the remainder of the course on your own time. Learn to create and teach your own barre fitness program that is safe, effective, and fun!
Upcoming Session:


October 21-23, 2022
Octopus Garden Yoga Centre
967 College St. Toronto, ON
Friday, Saturday & Sunday
10am-5pm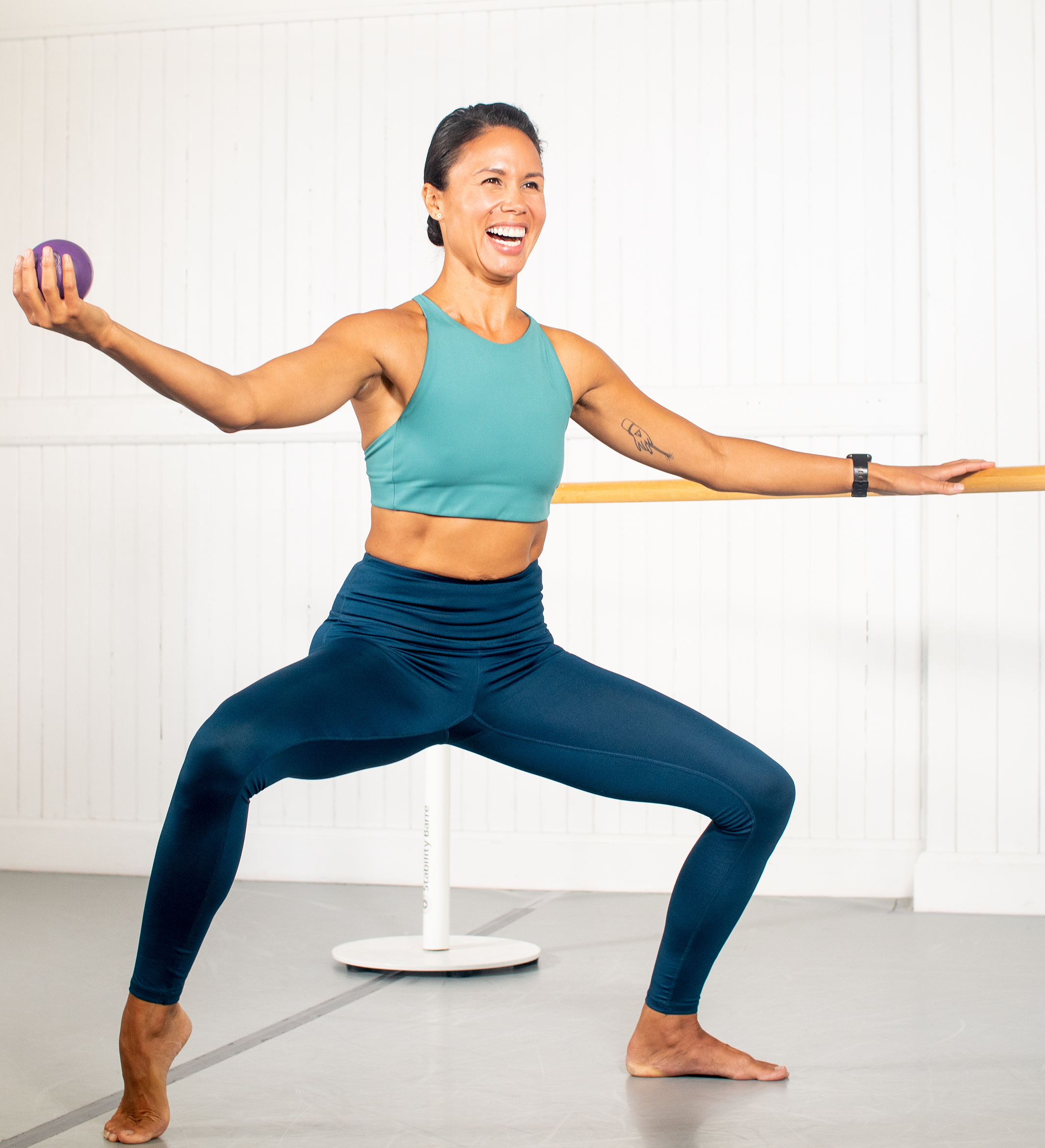 What's Included?
Barre Certified by Barreworks manual

Complimentary 2-month access to online fitness platform

Body by Jojo ($200 value)

1:1 private training session with a Principal Trainer ($125 value)

Video templates of all components of a barre class to guide you in formatting and sequencing your class

Instructional videos of key Barreworks exercises and how to cue them

20% off all future private training sessions with a Principal Trainer

An invitation to a private Facebook group to connect with other Certified by Barreworks participants
Need a different payment plan?Email [email protected] to discuss flexible payment options.
BIPOC Scholarship
We strive to make our Teacher Training Program accessible to everyone. We acknowledge the lack of representation amongst BIPOC individuals in barre fitness, and the fitness community at large, and we believe it is our responsibility to help change that.  Our BIPOC scholarship covers full tuition for one of our Barre Certified by Barreworks courses. Priority will be given to applicants that aspire to share barre fitness with their community.
Application deadline: October 7th, 2022
Testimonials
Hear From Our Satisfied Students
---
"As a former national level athlete, I am always looking for new, fun, and kick-butt workouts that will help maintain my health and fitness. Barreworks...changed not only my life, but the life of the clients I work with as a physiotherapist, too. The instructors are incredibly knowledgeable and caring. They provide numerous variations and modifications, which make it a safe environment for individuals of all ages, fitness levels, and injury types. Lastly, there is no denying that the classes are incredibly fun!"
---
Carly Orava, MScPT, BA
Registered Physiotherapist
"Barreworks amazing certification program has truly changed the way I approach training my clients. I have never had such a hands on comprehensive teaching style that enables me to really advance as a trainer. I highly recommend this certification for all levels and believe you will walk out of it more knowledgeable and confident as a trainer."
---
Drea Wheeler
Luxury Fitness Consultant / Trainer
"In my 26 years of experience as a doctor and exercise enthusiast, I have never seen any exercise class or program like Barreworks. The Barreworks team has finally built a system that is the perfect blend of cardiovascular, strength, core, flexibility, intensity, agility and balance.
In every workout, the entire body is specifically targeted to enhance the biomechanics of the kinetic chain from top to bottom. The exercises are current and follow scientific principles that maximize the exercise and significantly minimize the risk of injury. I too have made Barreworks part of my regular weekly exercise routine and feel stronger and more energized...at age 50. I strongly endorse this program."
---
Dr. Chris Oswald
President, Centre for Fitness, Health & Performance; CEO of Musclecare